Rally your shopping comrades, for it's about time to celebrate your Cardiff community by visiting the small businesses that make Cardiff special. Small Business Saturday is more than a day to shop, it's a day to celebrate and support the businesses that make our community great with friends and family. The day provides discounts, shop specials, surprise giveaways, basket draw tickets, live music, beer garden and local artisan pop-up shops in Cardiff-by-the-Sea, Leucadia and Downtown Encinitas.
Take a Chance Board! Over $1,000 in Prizes!
In addition of the day-of discounts offered by all of our participants, they've also loaded us with cool prizes, discounts and gift cards! With $1,000 of prizes, stop by our Take A Chance board and see what you can win!
Where?
The Take a Chance board will be located at our Cardiff 101 pop-up in front of Seaside Market
When?
We'll be handing out items from 11am-3pm, while supplies last.
What can I Win?
There are a variety of prizes and discounts available, we've highlighted a few of our favorites below:
- $100 Tower 13 Gift Card
- Nixon Gear
- Custom etched decanters from Sea + Wander
- Gold Stackable Bracelet from the Diamond Shoppe
- Gift Cards from Ki's Restaurant, Tower 13, Sambazon, Seaside Market, Vuori and others!
- Beach yoga session with SoCal Beach Yoga
- Free Drinks at our Beer Garden thanks to The Lost Abbey
- Fresh gear from Gold Coast Skateboards, Etnies, PlanB and more!
How?
Take one chance for $10 or 3 chances for $25!
Cardiff Limited Edition Print
In partnership with Visual Art Teacher & Cardiff resident, Angela Jackson, at SDA, art students were tasked with creating a painting that encapsulated the Cardiff Community. The students created beautiful and unique pieces, which were deliberated on Cardiff 101's Economic Development Committee. The winner shown on the right, by Marina Alberti was transformed into a Limited Edition Print for Small Business Saturday! The art work will be hosted at Guild Venue 100 and Postal Annex Cardiff for the entire month of November!
Get The Limited Art Print!
There are lots of ways to win a FREE Limited Edition Art Print, while supplies last on Nov. 24th!
Shop!
- Bring proof of purchase from a participating business to our Cardiff 101 Pop-up
- Spend $20 on C101 Merchandise
Explore!
Be one of the first to visit our Expanded Shopping spots & participating businesses.
Win!
Be entered into our Opportunity Drawing by:
- Showing us this Newsletter
- Becoming a C101 Member
- Sign up for our Newsletter
Get Social!
Post a picture on Instagram day of the event for a chance to win! Make sure to tag@Cardiff101MainStreet #ShopSmallSat #SmallBizSat #Shopthe101s
Visit our Cardiff 101 Pop-Ups!
At our Cardiff 101 Pop-Ups in front of Seaside Market, and at The Anton Eye we'll be your guide to shop, eat, drink, dance and have fun in Cardiff-by-the-Sea! We'll be promoting special deals and discounts happening that day and guiding you in the right direction to shop small for big savings.
We'll have live music, awesome discounts and you can Take A Chance at winning huge prizes at our pop-up in front of Seaside Market! We will be joined by our friends, Race Pace Pups, SDG&E and Beam Orthodontics who will be offering a free Invisalign Scan and $250 off Invisalign treatment from 11a-1pm in front of Seaside Market- so be sure to say hi!
Take a Few Minutes to Relax…
At our Cardiff 101 booth in front of Seaside market get a free 10 minute massage from 1pm-3pm, compliments of Melina Goshorn and Tracy Aldrich, local massage therapists who will also be offering a 90 minute massage for $60 special!
Also, don't miss local's favorite Bach to Rock Encinitas performing in the North Courtyard at Cardiff Town Center from 1pm-3pm while you shop!
New Expanded Shopping Spots
Kick back with a Lost Abbey brew and enjoy some live music, games, photos at AWsnap Photobooth and pop-up shopping! Special guests Vuori and RAIS Case will be offering deep discounts you can't miss! Drop off your board for a chance to have Cardiff artist, Marissa Quinn create your vision from 11a-3p while you shop some of her prints!
Vendor Line-Up:
The Lost Abbey, Vuori, RAIS Case, Racepacepups, She & Wolf Vintage Clothing, TAE Brands, Photo-booth, Stay Cheesy SD
WIN!
Thanks to our friends at Fowlers and Postal Annex you can win this kit of cool gear. Come visit us tomorrow 11am - 3pm at The Anton Eye to earn your free drawing ticket to Win!
Here is how:
- Becoming a Cardiff101 Member
- Sign up for our Newsletter
- Shop at one of our participating businesses and show proof of purchase
- Enjoy Lost Abbey brews and reuse or return your cup
Stop by this local-favorite boutique with quality, ethically sourced brands on SALE! Here you'll find pop-up shops from local companies, offering special discounts for the day. Combine that with live music from Kenny Beaumont and delicious vegan cupcakes - this is a stop you can't miss!
Vendor Line-Up:
Clay + Craft goods, Erin Fader Jewelry, MATIK Accessories, Kind Health Group, Vegan desserts by Rafaela Autunes.
Come have a beer at the oldest building in Cardiff, showcasing local artisans, live painting, mosaic surfboards by Nicholas Angelo and a brand new art exhibit. See the original painting that was created for our Limited Edition prints!
Vendor Line-Up:
Enlightening Souls, ENJET Media, Microsoft Surface Bar and local artisans.
Follow Cardiff 101 on Instagram for event updates: @cardiff101mainstreet
Schedule of Events:
The Anton Eye Schedule:
Cardiff 101 Pop-Up 11am - 3pm
Local Artisan Pop-Up 11am - 3pm
Lost Abbey Beer Garden 11am - 3pm
Art Gallery 11am - 3pm
School of Rock Encinitas 11am - 12:30pm
Darin and Yael 1pm - 2pm
Miss Violette 2pm - 3pm
North Courtyard Cardiff Town Center
Bach to Rock Encinitas 1pm - 3pm
Seaside Market
Cardiff 101 Pop-Up 11am - 3pm
SDGE 11am - 3pm
Beam Orthodontics 11am - 1pm
Massages by Milena & Tracy 1pm - 3pm
Live Music 11am - 2pm
Sea + Wander
Local Artisan Pop-Up 11am - 3pm
Kenny Beaumount 11am - 2pm
The Guild Venue 100
Local Artisan Pop-Up 11am - 3pm
Beer Garden 11am - 3pm
Student Art Exhibit 11am - 3pm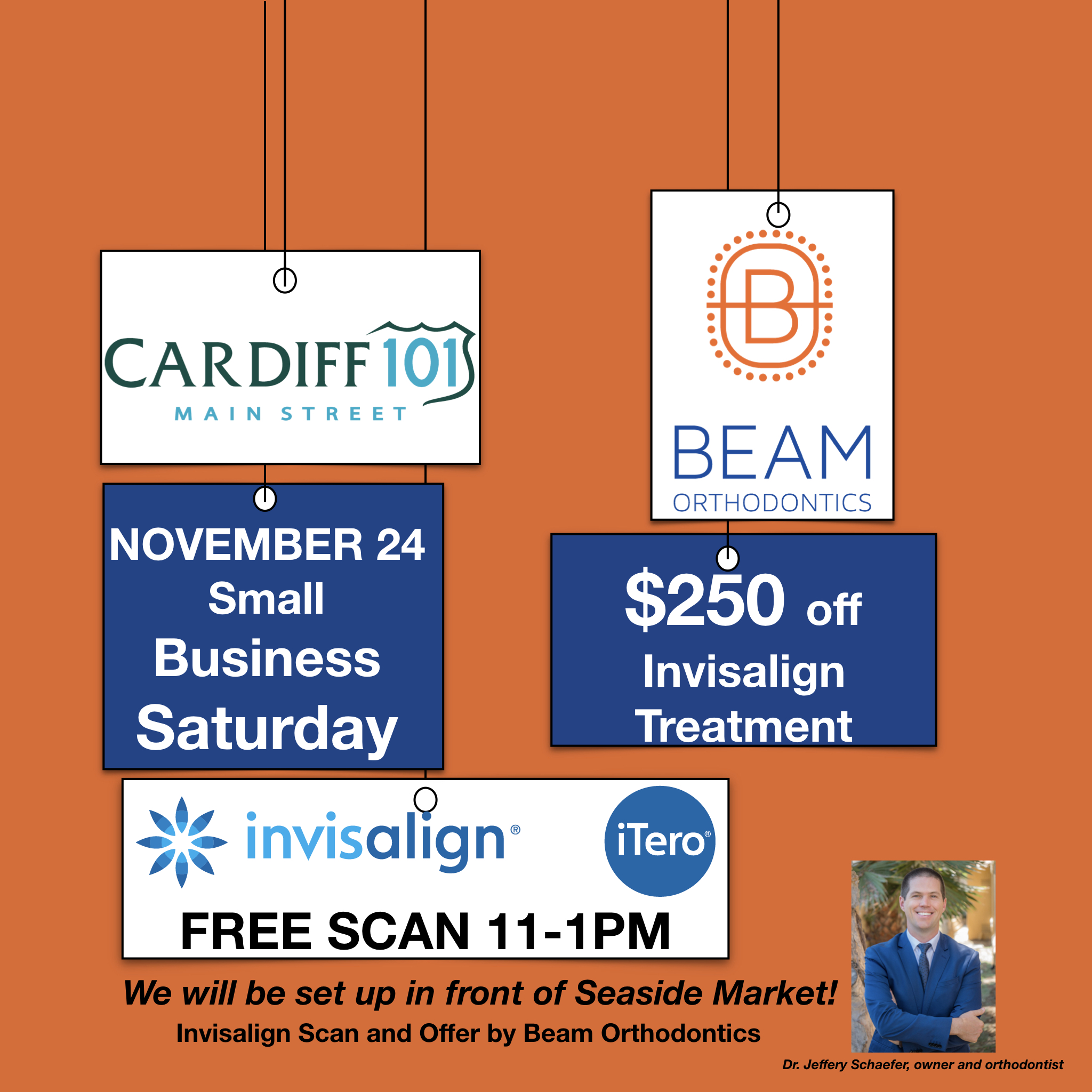 Vuori Clothing, RAIS Case, MATIK Accessories, Erin Fader Jewelry, The Diamond Shoppe, She & Wold Vintage Clothing, artist Marissa Quinn, East Coast Pizza, TAE Brands, AwSnap Photo-booth, Stay Cheesy SD, Kind Health Group, Rafaela Autunes Desserts & more!

Live Art Sponsored by SDG&E!
Thanks to funding by SDGE there will be live art at this years Cardiff Small Business Saturday! With input from the public and the Cardiff Arts Coalition a local artist was selected to paint this recently replaced box on Newcastle. Come by to meet the artist and get the first peek on Small Business Saturday!
Thank you to our event sponsors!
Helping to grow our community and support the businesses that make it so unique.
Waiver for all Cardiff 101 Main Street Events
When you participate or attend Cardiff 101 Main Street events, you enter an area where photography, audio, and video recording may occur. By entering the event premises, you consent to interview(s), photography, audio recording, video recording and its/their release, publication, exhibition, or reproduction to be used for news, web casts, promotional purposes, telecasts, advertising, inclusion on websites, social media, or any other purpose by Cardiff 101 Main Street and its affiliates and representatives. Images, photos and/or videos may be used to promote similar Cardiff 101 Main Street events in the future, highlight the event and exhibit the capabilities of Cardiff 101. You release Cardiff 101, its employees, volunteers, members and each and all persons involved from any liability connected with the taking, recording, digitizing, or publication and use of interviews, photographs, computer images, video and/or or sound recordings. By entering the event premises, you waive all rights you may have to any claims for payment or royalties in connection with any use, exhibition, streaming, web casting, televising, or other publication of these materials, regardless of the purpose or sponsoring of such use, exhibiting, broadcasting, web casting, or other publication irrespective of whether a fee for admission or sponsorship is charged. You also waive any right to inspect or approve any photo, video, or audio recording taken by Cardiff 101 Main Street or the person or entity designated to do so by Cardiff 101 Main Street. You have been fully informed of your consent, waiver of liability, and release before entering the event(s).